Why the East European Countries are Outsourcing Preferred Destinations?
Now, taking into account the statistics of preferred destinations and talented professionals, it is quite important to give answer to the question why the East European countries are preferred destinations not only for nearshoring, but also offshoring.

Often seen as bad, we also have to admit that the legacy of the Soviet Union has a plus – the educational system then and still now is focused on the engineering specialties. After all, the salaries are quite competitive and there is a low cost of living, especially when not outsourcing to the capitals, compared to Western Europe. At the same time the work force is quite skilled and eager to prove itself as professionals. As a rule, a lot of attention in Eastern Europe is paid to learning English and other languages like French, German, Spanish, and Italian. There are very small differences in the time zone – may be one or two hour. And what is maybe the biggest advantage – companies in Eastern Europe really tend to engage with the business model of their client. These companies are seeking good references and definitely want to keep their clients and through them find new ones. In Eastern Europe companies want to keep their reputation clean and they want the recommendations from their clients to be always positive. As compared, India is pretty good when you need to have things done quickly, in a cost-effective manner – just like the factory model while, in Eastern Europe people are more proactive and prefer more experimental tasks. Also, what we can see in India is a high employee turnover, lack of dedicated teams and what is a real pain for the managers – the "Yes, sir" culture where they agree with everything, no matter if it could be done, if it is possible to meet the deadlines or useless at all. Whereas, in Eastern Europe there is no such phenomena and you can have the independent opinion of the vendor's employees.

Do not forget that East European countries are nearshore providers and that is definitely a preferred model of outsourcing nowadays. And, for the countries in EU advantage is the VAT system that is pretty synchronized and the clear rules and regulations of EU that apply to all members.
The Best European Cities to Outsource
According to Tholons Top 100 in 2016 the best European cities to outsource are: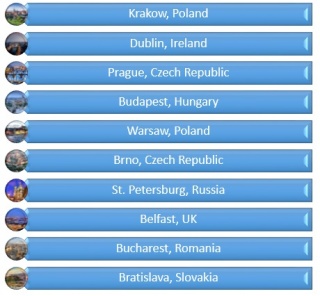 Of course, looking at those nice charts can make you feel that everything is easy and there is nothing as simple as taking the decision to outsource. Yes, you should be careful of the language barriers, the time zone differences and the cultural peculiarities. And, as it goes to China, also careful about the intellectual rights.

What is more to that and what is a real challenge along with the above?

The first question you should ask is if you are ready to outsource and is outsourcing going to boost your business? If you lack the needed trust in your partner or you think that you cannot be as loyal as to your clients, there is no chance it will work. Also, you should provide the vendor with the information needed, so that its employees can properly perform their tasks and really contribute to the quality of your product.

The second important questions is about the perfect outsourcing vendor for you. If you are a start – up or a small to medium company, do not believe that the big outsourcing companies are suitable for you. That is because they have many big clients and you, a start – up or a small company shall not be given the time and efforts you think you deserve. It is very often that the personnel dedicated to you, if there is a dedicated team, will not consist of such big professionals. So, look for vendors of middle size – they will really do their best to boost your business. Quality House Ltd. is aware of the needs of every client and thus help them with every step they take.

The third thing to consider is also quite important and is connected to the services to outsource – always look for companies that are specialized in the thing you want to outsource. For example, Quality House Ltd. Is strictly involved in Software Testing. The company services cover all types of testing and have professionals who have devoted a lot of their time to becoming such and be up to date with the latest trends in the area.

Keep an eye on our website so you don't miss our next article - 'How to successfully outsource your project?'

Quality House Team