Quality House - a Sponsor of the Mobile App Europe Conference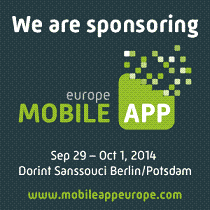 Quality House is sponsoring the
Mobile App Europe Conference
which is going to take place in Potsdam, Germany on 29.09- 01.10.
Mobile App Europe 2014
is a 3-day conference dedicated to passionate mobile app experts and professionals.
The aim of Mobile App Europe 2014 is to apply innovative knowledge to mobile app development, testing, management, marketing and design.
Mobile App Europe
is the perfect platform and the best choice for global players, mobile providers, software tool providers, consulting companies and all other companies with points of contact in mobile app management, marketing, design, development, and testing.
At
Mobile App Europe
app designers, app developers, mobile testers, managers and mobile marketers come together to discuss the future and present of the Mobile world.
Back to News