Quality House Member of ASQF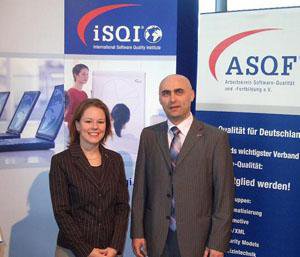 Quality House is the first Bulgarian IT company that took an action for becoming a member in the German Association for Software Quality ASQF and since April 2007 this is already a fact. Mitko Mitev, Managing Director of Quality House visited ASQF and iSQI stand on 26 April 2007 at the Software and Systems Quality Conference in Dusseldorf. Silvia Huhse welcomed Mitko Mitev in ASQF.
Mitko Mitev: "Quality House has become a member of the ASQF because we want to be part of this mature network of experts on software quality in order to share our experience and gain new valuable contacts and information. We appreciate the reliable co-operation with the ASQF and its subsidiary company iSQI on an international basis."
ASQF
is the biggest organization in Germany for exchanging ideas, knowledge and experience in the area of Software testing and Quality management.
Quality House is the first independent testing and quality management service provider in Bulgaria. The company has already earned recognition by way of becoming trusted training, consulting and outsourcing provider of critical testing and QA services to leading Bulgarian companies and multinationals. Quality House is also the only accredited ISTQB training provider in South Eastern Europe.
Back to News